So I know SCV was the deal breaker for a lot of y'all when it came down to it and that no one here uses SCLS but me, a few lil things came out on their Facebook page.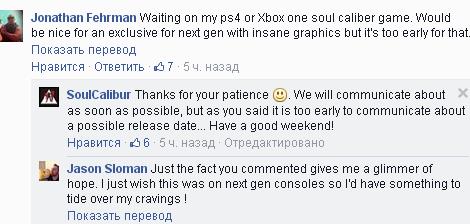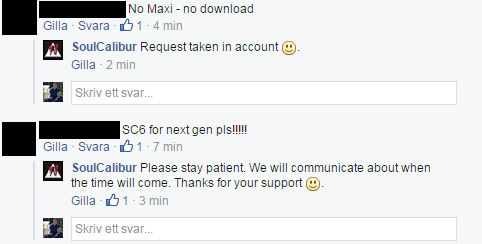 The thing that gets me about this is that the new PS hardly communicates with the community at all. They probably have hundreds of thousands of unanswered questions on both Twitter and Facebook, but this is interesting to me. This reminds me of late 2010 (around Xmas time) when Tekken Tag 2 hype was going on and then they announced that they were working on SCV. 
Maybe the same will happen here? Let's wait and see.
_____________________________
Oh like if SCVI happens i'll still get it. I've owned them all apart from SCI cause Dreamcast, lol.
They can only go up from SCV
_____________________________


Alisassy

Staff




Location

: Ireland


Posts

: 4199


Rep

: 131



Things look promising for a new game for sure.

Party Wolf

Beginner




Posts

: 1


Rep

: 0



I'd rather Hoshino go back to tweeting about food or what ever he was tweeting about than the robotics when the announcement drops.
_____________________________

---
Permissions in this forum:
You
cannot
reply to topics in this forum